DEAR CHILE: WE START THE TRAVEL PLAN!
January 10, 2019
From the air
These last days have been farewells. We have been staying where my mom, we already sold everything and the important thing is saved. Today we went to the airport. Our family accompanied us ... they supported us with positive advice and gave us their good energy - there were doubts and fears behind - if they were there, they kept it very much inside of us, it was a day to support.
When we started planning the trip, they gave us all kinds of warnings, advice and questions: but have not they seen the news? - said my dad, but how will they do it for so long alone without knowing anyone - said an aunt. How will they know where to go? ... there are very bad people, racist, they are dangerous, they do not want Chileans abroad, with that money you can buy a car, how are they going to give up their jobs! - projecting each one their fears and prejudices.
We were on our way to the airport and I could not be aware of what we were doing. Something that travel has given us is to live day to day ... it is not that we do not project ideas, plans or desires; only when we set a goal we execute step by step, day by day. We are really doing it, I thought. I looked for the eyes of Felipe, he smiles to me ... in 12 years together we have faced economic and familiar problems but between us until the moment everything has gone very well ... simply we have always been in tune. We arrived ... I take a deep breath and start the step by step of the next 2 years. Our families see us leave and I see them stay.
I will miss the walks through the hills of Valparaíso. My friend Jaimito gave me a walk in his bay to say goodbye to you. I will see your mountains, valleys and forests in every country that goes.
I will write you soon.
Pam.
Ps: Greetings from Viajeros Al Viaje. The Andes mountain range looked wonderful.
About Us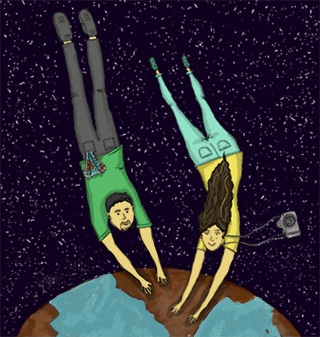 Life was advancing faster than us ... until we decided to reach it.
We are Pamela and Felipe. A young Chilean couple who, after working for several years in our profession of architect and computer engineer, decided to fulfill our dreams and expectations of life. We renounce our jobs to travel around the world without a return date.
Keywords
travel, trip, awakening, traveler, fears, daring, decision, go out, options, moves, routine, explore, world, beliefs, vacation, comfort zone