HOW TO BUY A SIM CARD IN PHILIPPINES
In these times and with the prices of the Sim Card for the cell phone, there is no excuse for not having internet wherever you go ... it will save you many times and you will save in several others.
In the Philippines you have several options to buy your Sim Card being the main companies Smart and Globe, both have good coverage and quite good prices. We use Smart, but I have learned from other travelers that Globe is as good as Smart.

Smart and Globe main telephone companies.
Where to buy my Sim Card?
Both companies have a stand at the Manila airport, as well as in different shopping centers and even in supermarkets such as 7-Eleven, so buying your Sim Card will be quite easy.
< p> At the airport both companies have the Sim Card offer for free, so you would save the purchase of the Sim Card (app about 40 PHP) and you can choose between different types of plans for tourists, such as data or calls only. data. If you read our post
BALABAC & ONUK: PARADISE WITHOUT TOURISTS AND LOW COST IN PALAWAN
you will know that calls are also necessary.
How much does it cost to have internet in the Philippines?
There are many plans depending on the amount of gigas and minutes as well as their validity.
In our case, as we had already budgeted to be around 30 days in the Philippines, we opted for the cheapest Smart option that was valid for 30 days, which for PHP 449, something of $ 8.5, we had 2 GB free and all the days were loaded 1 GB for video is youtube or other applications, enough for what we needed that it was generally to see google maps and use WhatsApp.
If you want to see all the Smart or Globe plans you can visit the following links, Tourist Sim Smart and Traveler Sim Globe.
Where recharge my Sim Card?
Both companies have options in almost every supermarket or store, so you will not have problems at this point.
Of course if you move away from cities or urban centers you may not find a supermarket that can recharge your Sim, for these cases we recommend downloading the application of the company you chose. We use the My Smart application, which in addition to indicating the balance of GB that we had, gave us the option to recharge our Sim Card online with the credit card, and buy in the same application a GB bag or minutes depending on what we need.
As you can see there is no excuse to be disconnected in the Philippines, unless you wish.
About Us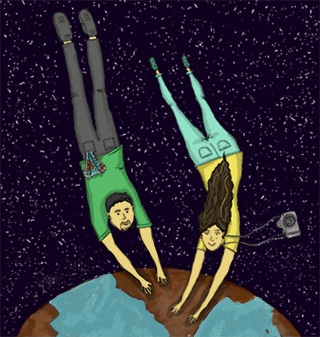 Life was advancing faster than us ... until we decided to reach it.
We are Pamela and Felipe. A young Chilean couple who, after working for several years in our profession of architect and computer engineer, decided to fulfill our dreams and expectations of life. We renounce our jobs to travel around the world without a return date.
Keywords
sim card, philippines, prices, smart, globe