HOW TO GET A VISA FOR INDIA BY YOURSELF (UPDATED 2019)
THE day has come, doesn't it? - is already decided - you will go to one of the most intense countries in the world, the one that impress you in every way. If you wonder if you need a tourist visa, the answer is yes. Unless you are a citizen of Nepal, Bhutan or Maldives. But do not worry, you can get the tourist visa online. According to the new update of the government of India, since April of 2019 the e-visa or visa online gives you permission to be 1 year in India with multiple entry - whether you go for 1 day or for 2 weeks - If you get the visa, you will have 365 days to visit the country with multiple entries!
India is often complicated, but getting a tourist visa is easy and you can do it online. Here we will show you step by step. We got it without any problem in 3 steps.
STEP BY STEP TO GET THE E-VISA OR ONLINE VISA FOR INDIA BY YOURSELF WITHOUT AGENCY
Before starting, you will need the following:
- A 5x5 centimeter (2x2 inch) color photographic, license type in jpg, with a weight between 10 kb and 1mb. Photography with white background. (Do not be lazy and take a studio photograph because they can reject it).
- A scan or good photograph of your passportwhere your personal data appear in pdf format with a weight between 10 kb and 300 kb.
- Credit or debit card. You can also use a paypal account. The cost of the Indian tourist e visa is 80 usd + a processing fee (about 2 or 3 usd).
Note: You can process the online visa to India from 120 or 4 days before the date of arrival in the country.
1. Go to the official website of the Government of India at the following link.
The following panel will appear where you must select "Apply here for e-visa" at the bottom of the page, there you have other options that will allow you to track the status of your visa, print the visa, check your payment.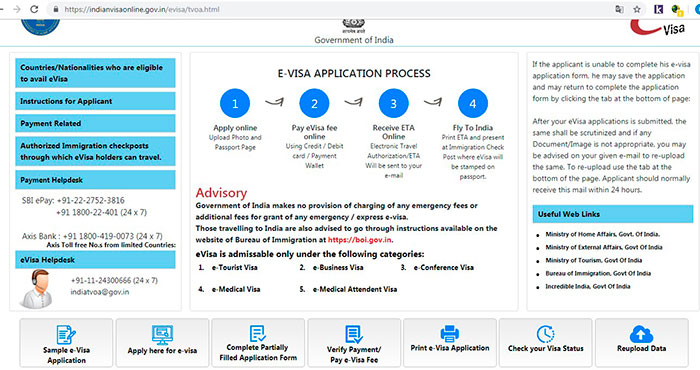 2. When you click, the form will appear to fill it out.
In "Visa Service" you indicate eTourist Visa, then recreation / sight-seeing.
In the port of arrival you have to indicate the airport that you will enter according to your flight.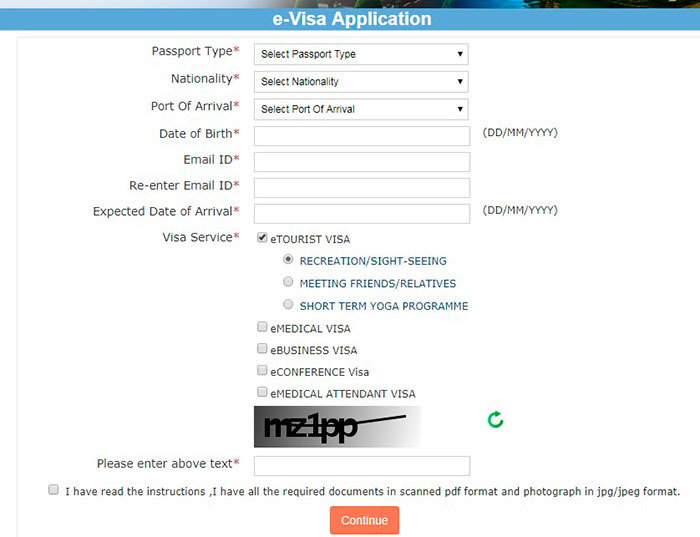 IMPORTANT: At the top it will show you in red the "Temporary Application ID" write it down, so you can retake the form in case you can not fill it all at once.

From now on, you must fill in the required data; with patience, you will be asked many details such as your parents' name, country of origin, your religion, visible marks on your body that make you recognizable, a mole, tattoo.
TIPS:
- In direction in India you can put the one of your hostel or hotel as well as its name.
- In "work" we indicate freelancer, that way we put ourselves as an employer with the same address as our house.
IMPORTANT:
- Do not put that you work in a profession related to media! Whether photographer, journalist or other, because they will deny you the e-Tourist Visa and they will ask you for a special visa. Better follow our advice and do not complicate, just indicate that you are a freelancer.
- Your name should appear as it is in your passport. If not it will be rejected and you will lose the amount you paid for the visa. All the data in your passport must match with the information in the form.
When you get to the visa details form, it will be automatically filled in with 365 days and the "number of entries" with multiple.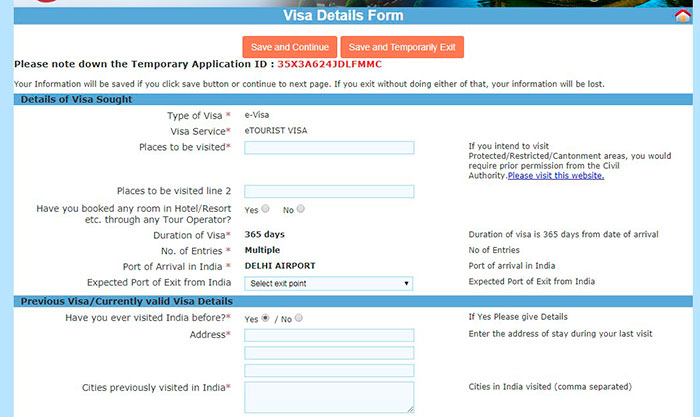 TIP: You will be asked to fill the cities you will visit, you can name the main cities that you think you will go to but that does not means that you cannot visit other cities.
3. After corroborating and certifying your information with a "Yes" it will give you the option to pay now or later. If you do it later you can access from the main panel with the ID that generated at the beginning. As you can see in the following image, they give you three options to pay - choose paypal - and you can pay with your credit or debit card.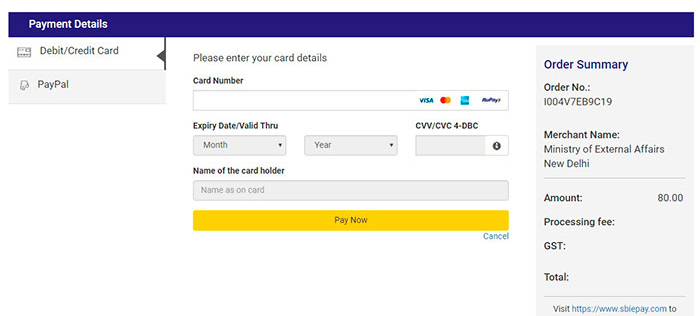 YOU ARE READY ! In 3 steps you can get an Indian visa for 365 days (1 year) with multiple entry - 100% online. There are a few form to fill out, but it is definitely faster than going to an office to process it.
In less than 72 hours you will get your visa in digital to print (do not forget to print it!) And you will be ready to enjoy the exotic INDIA.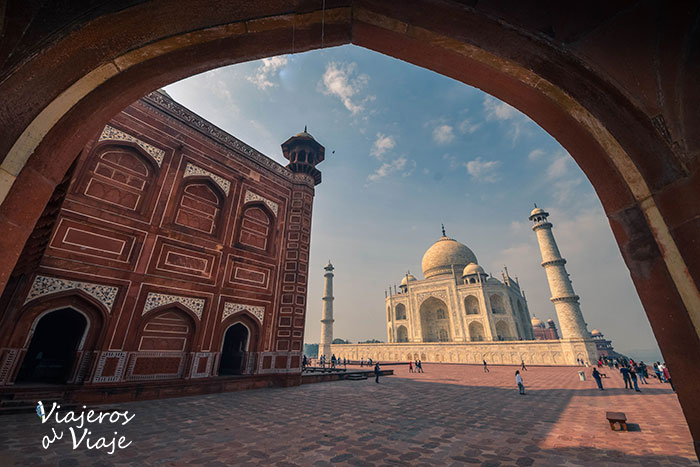 About Us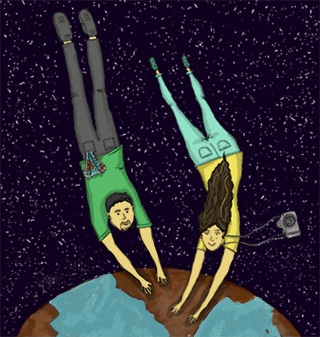 Life was advancing faster than us ... until we decided to reach it.
We are Pamela and Felipe. A young Chilean couple who, after working for several years in our profession of architect and computer engineer, decided to fulfill our dreams and expectations of life. We renounce our jobs to travel around the world without a return date.
Keywords
india, e-visa, visa, online, electronic, easy, by, yourself, 3 step, step by step, steps, apply, updated, 2019, form, fill, print, get, obtain, acquire, evisa, license, passport, tourist, country, countries, worldwide, us, world, countries, link, important, details, amount, cost, dollars, value, money, how much, how, visa, deny, approved, process, digital, got, less, time, no, agency, account, card, credit, paypal, ready, option, able, prepared, smart, taj mahal