WHY TRAVELING MAKES YOU A SUCCESSFUL PERSON
Since we began to travel in 2013, we can evaluate that we have become like sharks towards a prey; I mean, if we set a goal, we pursue it until we reach it. After returning from the 3-month trip to Europe, we decided to go to work in another city where our salaries were higher (that is how we did it) and we would save to travel a minimum of a year or two. And here we are in India, 32 days since we left our country and we are living our plan. We do not know what the future will bring, but we know that it will be what we propose it to be.
Sincerely and humbly we believe that the trip turns people into a better human being: more compassionate with others, fun, great, free and confident in itself - all keys to success -. We do not refer to the stereotype of a successful businessman, but rather to the purity of success as such. It transforms you into the kind of person that you want to know and interact with.
So in what kind of person would you transform yourself exactly? One person ...
1. More sure of yourself.
At the beginning of the trip you made the most difficult for the common people - leave your comfort zone - where everything you live is new and you must react to it by enhancing all your skills and acquiring new ones. You have climbed to how much mountain you put in front of you, you have communicated in languages that are not yours with words that you were not aware that you knew, seen the aurora borealis, been in the arctic circle, have stopped you in a border, the train has gone - the ferry - the bus, you have bathed in seas that you only read in history books. Surely as we have lived many experiences and in all you have used your skills to emerge victorious. When you achieve so much, you feel that you can achieve everything you set out to do.
2. More relaxed facing problems.
Cold head against any adversity. You are more sure of yourself, you know that you can achieve many things, therefore the problems that you face along the way no longer face them as such. The fear threshold has dropped so it allows you to be calm and make good decisions. After a time on a long trip you adapt to the changes without getting frustrated or angry, you simply look for option b, c and d to move on. In short: facing the problems you are as calm as Chile in earthquake.
Calmer than Chilean in earthquake.
3. More sociable.
It is inevitable that you know people, the human is sociable by definition. No matter how quiet you are, you should always ask something and that answer often takes you from one subject to another until you realize without realizing you are sitting sharing the tuk tuk with a French girl at the train station, you had the same car and seats nearby , you go talking with her to the next city ... since they have fallen so well, you are going to travel the city with her and by chance in a temple you become the special guest of a Hindu celebration. So after months you talk happy with strangers and return to your home as someone totally different.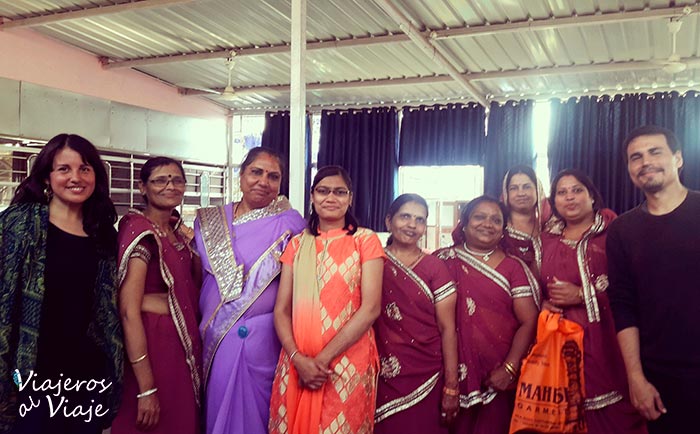 Guests in Chittorgarh, India.
4. More interesting.
Traveling gives you material to talk, you become a connoisseur because you absorb everything that is in your way. So now you are not only not shy but you are also very fun to talk, more relaxed. You reflect the experience and the confidence in yourself. And above all, you can know more in depth the people who run into you since your questions will be other less superficial.
5. Less materialistic.
On a long journey you learn to move with just and necessary, you can not carry much weight, so you minimize your things. On the first trip we carry a lot of weight and it is inevitable that you get tired and enjoy less, so we got rid of many things that were not necessary. And since you have been living so long with a few stuff, when you go back home you feel that you have too many unnecessary things that do not lead you to anything. The business wants you to buy everything, but you return with a shield to consumerism, which allows you to finally save for a new adventure. As José Mujica - former president of Uruguay - says - "I am not poor, I am sober, light of luggage, I live with just enough so that things do not rob me of my freedom."
6. More adventurous.
We have 5 enhanced features; more confident of yourself, more relaxed in the face of problems, more sociable, less materialistic and more interesting - then the adventure falls by its own weight-. When you are not afraid you explore the unknown - I do not mean to climb to the top of Mount Everest - but maybe if you go to your base camp, because you know what you are capable of. As they say around there, the sky is the limit. You discard the paid tours since in addition to expensive you limit the opportunities to know a culture from within, try new foods, use public transport, and immerse yourself in nature.
7. Younger and pretty.
You are more relaxed, knocking out all the problems that are approaching, you are excited by the adventures and you look radiant. It is proven that stress ages and you have been carefree for months - it is not that you did not have them - it is just that you no longer face them in the same way. The energy will come out of your eyes and you will look younger and more beautiful.
8. More ingenious and intelligent.
A trip teaches you about life in the world, you learn about the culture of each country, about people, about history. You learn colors, construction, transport and finance. All this gives you a better understanding of your environment and you know how to move. The experience that can not be taught, only lived. Our advice would be, do not travel in a bubble, strive to go out on your own to travel, meet people, instead of a hotel use a hostel, airbnb and / or couchsurfing, use public transport. Get out of the bubble !.
9. More happy.
The sum of all the above is peace, and how not to be if you no longer worry about silly problems, you have given perspective to your life to see the magnitude of the problems faced by other people. Do you not know the language? Well you learn on the road, traveling usually you see the kindness of the people - in Greece a girl who did not speak almost English got off the bus with us before her stop just to show us where the subway station was - you get the affection of the people in many places and your heart is filled with happiness. You are more awake and you see everything with the eyes of a child, every detail seems wonderful to you; and it is something that stays with you when you return from the trip. When we returned to Chile, I went to the bus (small bus) and continued looking at what I had seen thousands of times before, now in more detail. You can not avoid many times seeing beauty in everything.
The recipe for success contains all these ingredients. So, what do you expect to plan and live your next adventure?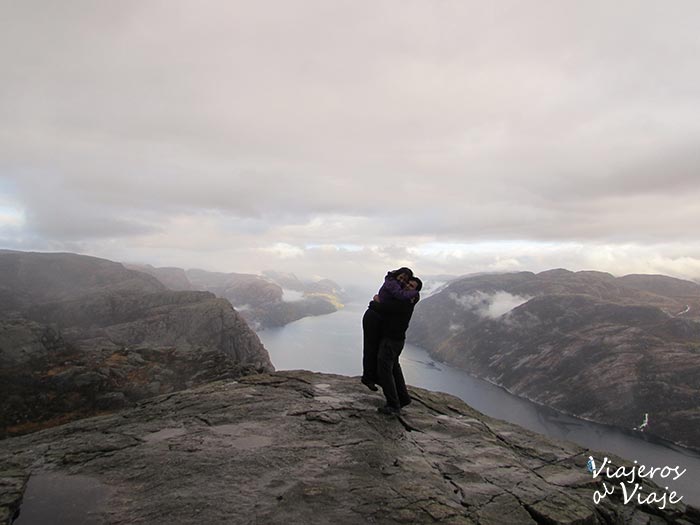 Pulpit rock, Norway.
About Us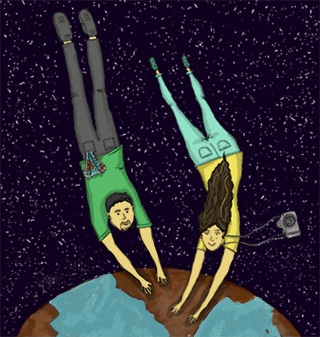 Life was advancing faster than us ... until we decided to reach it.
We are Pamela and Felipe. A young Chilean couple who, after working for several years in our profession of architect and computer engineer, decided to fulfill our dreams and expectations of life. We renounce our jobs to travel around the world without a return date.
Keywords
travel, trip, awakening, traveler, fears, daring, decision, go out, options, moves, routine, explore, world, beliefs, vacation, comfort zone